Service
Business Introduction
Process of making World Highest Quality Pearls
PERSISTENCE
IN THE WOLRLD
HIGHEST QUALITY
As the result of continuing this
overwhelmingly hard working,
we have come to the situation
to be able to introduce you
our [Lake water pearls].
Out of 100kgs.
of Fresh water pearls screening,
only 1kg. of Lake water pearl
becomes available,
but in worst casethere are
many cases that only 200g.
or less of Lake water pearls
are found our of 100kgs.
It is extremely tough work to pick up
[Lake water pearls] among the
Fresh water pearls.
Process of making World Highest Quality Pearls

Size screening work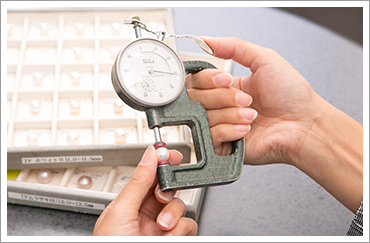 The sizes of pearls are determined by shaking with sieve. But the Fresh water pearls are not all round but various shaped, and so after shaking the pearls with sieve, they are measured again with gauge like the photo.

Sorting work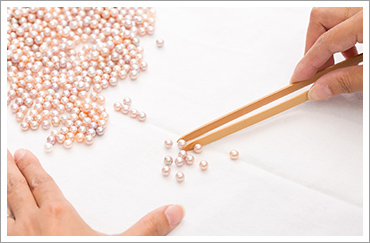 The screened pearls are sorted into Shape, Color, Scratched & etc. It is a detailed work that requires patience and concentration as well as overwhelming time. Our sorting team, they are sorting 200kgs. of the Fresh water pearls weekly in order to provide the World Highest Quality Pearls.

Drilling work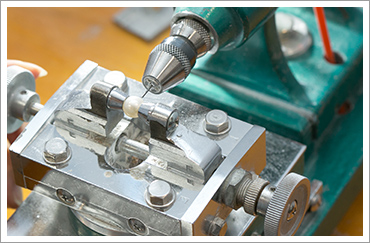 Our drilling team, they are drilling the pearls to set a goal of error within 1/1000mm. Although the goal is too high, but our goal of error is 1/1000mm and not 1/100mm as a guide of the Yakushi Pearl Inc.

Making pearl strands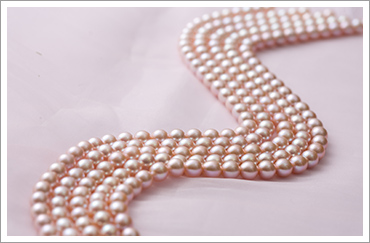 Making 1 strand of pearls with the pearls selected and drilled. This process is done all by our craftsmen's hand, and in order to ship your orders monthly, we are stocking so many pearls equivalent to volume of swimming pool.

Checking work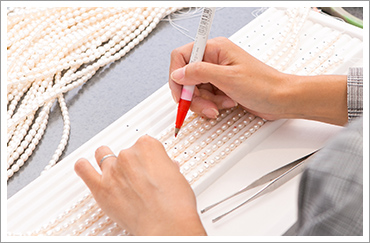 Checking work to find irregular shaped and hidden distorted pearls in the strands. Of course, inappropriate pearls in the strands are taken out to return to the strand making team. This strictness is the pride of Yakushi Pearl Inc. aiming for the World Highest Quality.

Jewelry manufacturing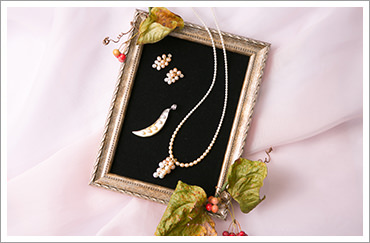 In order to deliver better jewelry, the pearls carefully selected in a long and steady process are born again to become very beautiful jewelry by our craftsmen's hands.